Choose Showtime to Buy Tickets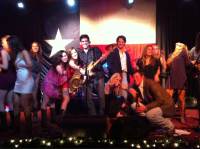 DJ/Karaoke Night - All You can Eat Sirloin! All ages
7-11pm $10 at the door Kitchen opens at 5:30.
Ages: All Ages Price: $10
This Event Has Ended
Bring the whole family! All You Can Eat Sirloins in the restaurant. KARAOKE in the dancehall! $100 grand prize to the winner. All ages. Good, clean fun !
***Free entrance to Dancehall with meal in the restaurant.